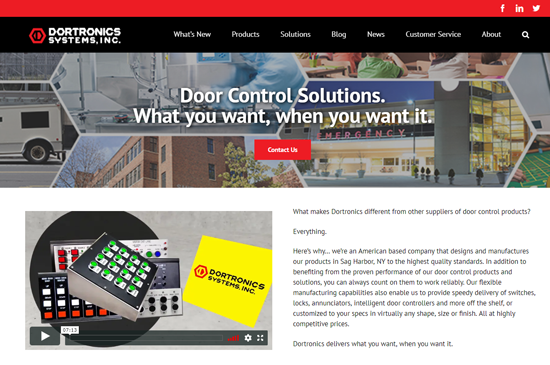 Sag Harbor, NY (July 31, 2019) – Dortronics, the security industry's go-to source for customized door control products and solutions, announces the launch of a new website specifically designed to strengthen and clarify company communications and serve as a platform for providing ongoing product and thought leadership information to the professional security industry. The new site features a totally new contemporary design that reflects the company's established branding, along with a host of new sections, features and functions that are accessible on any computer or personal mobile device.
"There's no doubt that we've witnessed a substantial change in how security professionals shop for and compare products," said John FitzPatrick, President, Dortronics Systems. "In addition to providing the latest information on Dortronics door control solutions, applications and technical information, we've designed our website to become a true resource with a continual stream of new information and content specifically for security professionals."
In addition to being fully responsive to ensure a positive user experience across all platforms on any device, the site features Dortronics' highly recognized "what you want, when you want it," communicating the company's unique ability to quickly fulfill orders with customized products or directly off the shelf from stock. Additionally, the new website features new sections for the company's new blog series, industry solutions and a variety of high-value content covering a wide range of subjects.
Check out the new Dortronics website at www.dortronics.com and follow us on Facebook, LinkedIn and Twitter!