Dortronics Displays Versatile Custom Fabricated Door Control Capabilities at GSX 2019
Fast Turnaround Time with Affordable Custom Configurations, Colors, and Engraving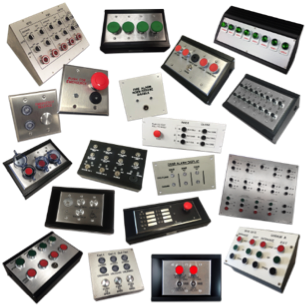 Chicago, IL (September 10, 2019) – Dortronics, an industry leader in off-the-shelf and customized door control solutions, is displaying a wide assortment of custom designed and manufactured products here at GSX 2019 in booth #1333. The display enforces the company's ability to quickly respond to users' and installers' increased demand for customized door control products.
"Dortronics is uniquely positioned to deliver door and access control products with custom finishes and engraving with fast turnaround times and at the right price," said John Fitzpatrick, President of Dortronics Systems, Inc. "All product design and manufacturing takes place on-site at our Sag Harbor, NY headquarters, which provides us with distinct turn-around and quality control advantages over off-shore suppliers."
Dortronics' flexible and versatile manufacturing facility can deliver an extensive range of customized products including: a wide selection of switches in different form factors with highly-visible laser etched or engraved paint-filled lettering; and custom plate sizes and annunciators in almost any shape and size. Dortronics' fast order fulfillment turnaround assures installers will get what they need fast to avoid installation delays.
Dortronics also offers a comprehensive line of magnetic locks, push buttons, and key switches in special finishes such as polished or brushed chrome or brass, as well as color-anodized aluminum from stock.
For more information on Dortronics visit www.dortronics.com or e-mail sales@dortronics.com.