Dortronics' Latest Door Interlocking Solutions and Customized Products Take Center Stage at ISC East 2018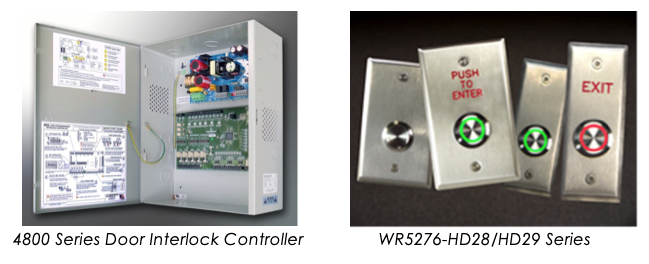 New York, NY (November 14, 2018) – Dortronics, an industry leader in off-the-shelf and customized door control solutions, is displaying its door interlocking solutions and customized door control products here at ISC East 2018 (booth #455). Featured products on display include: the highly cost-efficient and versatile 4800 Series Intelligent Interlock Controllers and 4900 Series PLC Mantrap Controllers; and a wide selection of door control switches, pushbuttons and annunciators that can be customized to meet specific user needs.
"Dortronics has become the industry's go-to source for customized interlocking and mantrap solutions, and special order door control products," said Bryan Sanderford, National Sales Manager, Dortronics Systems, Inc. "We have the proven ability to provide our customers with the specific door control products they need at competitive prices with fast turnaround. This provides system designers and installers with extreme flexibility and a competitive advantage."
Showcased products at ISC East 2018 include:
4800 Series Door Interlock Controller accommodates up to five doors, including doors with automatic openers ideal for numerous SMB, clean room and retail applications.
4900 Series PLC Mantrap with 12/24V selectable outputs delivers increased scalability and higher cost-efficiency for large installations with multiple door locks and alarm devices.
Waterproof Push Button Switches, WR5276-HD28/HD29, designed for card access systems or automatic door openers. The waterproof push button switches consist of illuminated LED ring colors, custom text engraving, IP-65 and IP-66 ratings for harsh environments; and neoprene gasket for mounting.
For more information on Dortronics' extensive line of door control products e-mail sales@dortronics.com or visit Dortronics at ISC East 2018 (booth #455).